Our Mission and Objectives
Mission
Foster most effective and ethical TCM doctors
Increase TCM awareness in the Western Culture
Objectives
Providing deep and wide training in TCM
Promoting medical ethics
Helping students to develop an interest in life-long learning
Cultivating the ability in TCM research
Our Leadership
President of TCICTCM
Laina Ho, Dr.TCM, MHA, MD (China)
Program Advisory Committee
Henry Lu, Dr. TCM, Founding President and Honorary Advisor of TCICTCM
Michael Chung, Dr.TCM, Bema Botanicals
Gary Ho, CEO Tzu Chi Foundation Canada
Annabel Alice Mackenzie, R.S.T.
Mac Miao, Tzu Chi Foundation Canada

Our History
1986 "Chinese College of Acupuncture and Herbology" was founded in Victoria, British Columbia.
1988 The College changed its name to "International College of Traditional Chinese Medicine."
1989 A Vancouver campus was formed on East Hastings Street, in the Vancouver Chinatown.
1991 The Vancouver campus moved to 1847 West Broadway.
1995 The Vancouver campus began to operate independently under the name of "International College of Traditional Chinese Medicine of Vancouver".
1998 The College moved to 201-1508 West Broadway.
2015 The College opened a new campus on 200-1215 West Broadway for the purpose of teaching and administration; the College Clinic stayed.
December 31, 2015 The College was officially donated to Buddhist Compassion Relief Tzu Chi Foundation Canada, or Tzu Chi Canada, an international charity organization dedicated for charity, medicine, education, culture, international relief, and environmental care.
September 2018 The College officially changed its name to "Tzu Chi International College of Traditional Chinese Medicine".
August 24, 2020 The College Clinic was now merged with classrooms and administration on one site: 200-1215 West Broadway.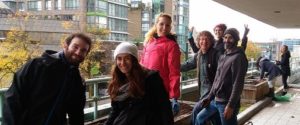 Our Students
Since 1986, the College has trained a great number of Canadian students as well as international students, who came from over 30 countries and regions in the world: Australia, China, Colombia, France, Germany, Greenland, Guatemala, Hong Kong, Hungary, Iceland, India, Indonesia, Iran, Italy, Japan, Korea, Laos, Malaysia, Mexico, Myanmar, Portugal, Romania, Russia, Singapore, Switzerland, Tahiti, Taiwan, Thailand, Turkey, United Kingdom, United States, Vietnam, etc.